Automatic (unmanned) dispenser BON-8000A / Devices for exclusive use BON-3000P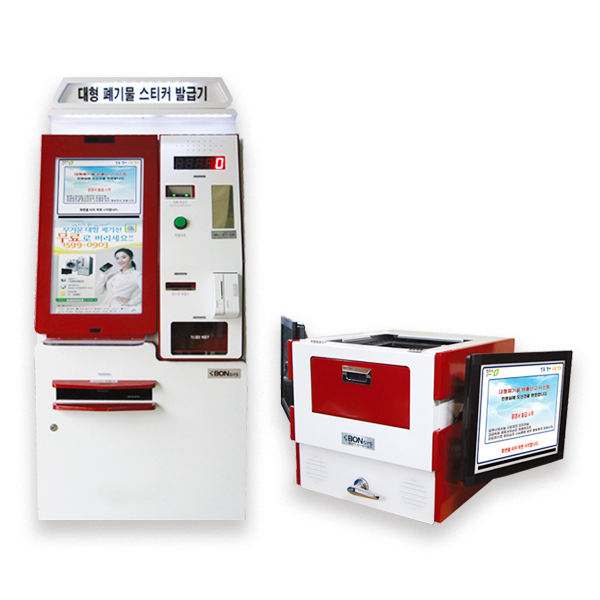 Kiosk Equipment
A system for reporting discharge of large wastes
Unmanned large waste discharge report dispensers / Two-way machines exclusively for reporting discharge of large wastes
EMI Certification : MSIP-REM-bon-BON-8000A
EMI Certification : MSIP-REM-bon-BON-3000P
This is a system designed to promote customers' convenience so that they can receive report certificate stickers even on holidays and at night after installing special devices (manned) or special kiosks (unmanned), connecting with servers for managing large wastes, properly managing data through computerization and using special kiosks.

[Unmanned large waste discharge report dispensers] These are unmanned issuing devices to be installed in public place or designated places in order to help customers directly receive large waste report certificates which they need. They can receive the certificates all the time without visiting community centers. As input data about large wastes are sent to related offices, wastes can be collected swiftly and in consequence, customers' inconvenience can be solved and streets can be maintained cleanly.
[Two-way machines exclusively for reporting discharge of large wastes] These two-way machines which are installed in windows of community centers for accepting data about large wastes are designed to issue report certificates after customers input data or related persons accept data. Their monitors are removable according to installation conditions.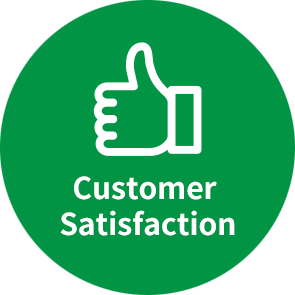 Public holidays, nighttime report certificates issued
Credit card (IC/magnetic) usable
Inject paper money (1,000 won, 5,000 won, 10,000 won)
Discharge (1,000 won), coin (500 won) possible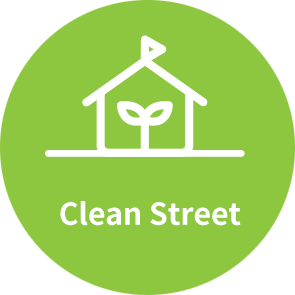 Prevent illegal disposal of wastes
Prevent missed waste collection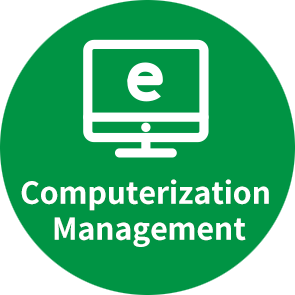 Job computerization possible
Improve effectiveness of management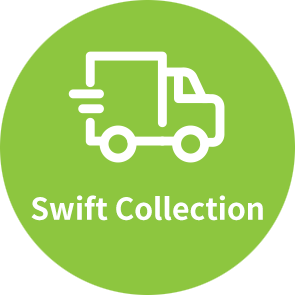 Prevent missing of real-time transportation of collected data
Easy checking of attachment of report certificate stickers
Installation and Maintenance and Management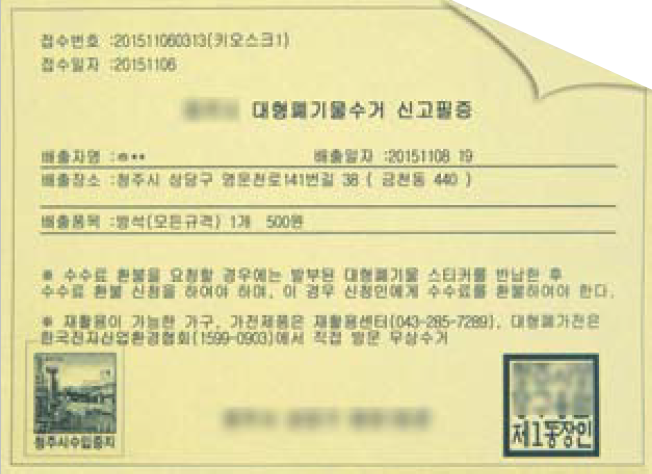 Use stickers exclusively for large waste report certificates
Continuously update D/B of road name addresses and land lot-based addresses (conversion from old addresses)
Fact actions and problem solving in case of disorders (select companies for maintenance and management by region)
Nationwide call center (1577-3169) for receiving other troubles
Use sticker paper exclusively for large waste report certificates용